How to Set Up Facebook Group Subscriptions
If you run a Facebook group with a sizable following, there are several ways you can monetize it. You could try affiliate marketing or direct users to your own landing pages, just to name a few examples. However, sending your followers away from Facebook can be challenging. Another alternative is to use Facebook's brand new group subscriptions feature, which was recently rolled out to all users.
A Brief Look at Subscription (Or Membership) Websites
Before we discuss the specifics of Facebook group subscriptions, let's take a moment to discuss how this monetization method works from a business standpoint. After all, the thought of making money by running a social media page might seem a bit odd if you're not familiar with similar strategies.
Group subscriptions actually aren't a groundbreaking business model. In fact, many websites require you to pay a subscription fee to gain access to restricted areas and exclusive content. This strategy aims to enable the people who set up and maintain the website and its content to earn an income for their work.
It also enables them to implement new features and provide support, which can help them maintain their site's online community an improve its users' experience. For example, some popular forums charge monthly fees in exchange for access. Also, many musicians and creatives share exclusive content with their loyal followers via membership platforms such as Patreon.
However, you can find a lot of content on the web for free. Why would anyone bother to pay just to access a website (or Facebook group)?
Many specialized online communities provide access to content and resources you can't find elsewhere. It's these premium platforms that tend to charge subscription fees.
In other cases, there might be similar content available on other sites, but premium platforms can charge users because their reputations precede them. Subscribers know they're getting higher-quality content than what they can find for free.
If you're a WordPress user, there are plenty of ways you can create private membership-based websites and communities. However, now Facebook is also throwing its hat in the ring with its new group subscription feature.
An Introduction to Facebook Group Subscriptions
Facebook recently rolled out an update that enables group creators and admins to set up additional private sub-groups with paid access. This provides you with a quick way to establish a for-profit online community without having to leave Facebook.
Facebook group subscriptions enable you to offer exclusive video content such as tutorials, shoutouts, behind the scenes access, and more. The launch was initially on a small scale, with only a handful of groups granted access to the feature.
As far as payments go, it's up to you how much you want to charge your supporters. Most Facebook subscription fees range between $4.99 and $29.99 per month. However, note that to qualify for this monetization feature, you need an existing page with:
At least 10,000 followers, or
Over 250 return viewers with at least 50,000 post engagements or 180,000 watch minutes in the last 60 days
Apart from that, your page must comply with Facebook's partner monetization policies. Also, note that fan subscriptions are currently only available to pages registered in Australia, Canada, U.K., Brazil, Mexico, Thailand, and the U.S.
As of today, Facebook does not take any portion of your earnings, so you'll receive 100 percent of the price that your supporters pay for access. However, for transactions made on mobile devices (iOS and Android), you'll only earn 70 percent of your membership fees after applicable taxes.
How to Set Up Facebook Group Subscriptions
To set up your group subscription, head to the Creator Studio and choose the page you want to monetize. Currently, there are multiple monetization options available, including online events, paid articles, and more. If you're eligible for any of these features, you'll see a Set Up button next to your page's name.
Next, you'll have to review and agree to Facebook's Terms and Conditions and set up your payout account. You'll see a screen where you can fill out your personal details: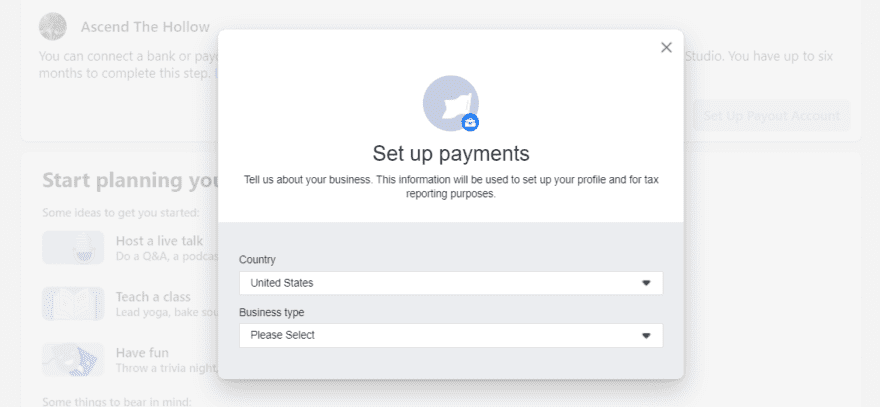 You can also choose to receive your payouts via bank transfer or PayPal. Note that you'll need to provide your social security or tax number before you can proceed.
In the next section, you'll be able to set up the benefits that you want to offer to your subscribers. By default, all your fans receive a 'supporter' badge, which they can disable if they prefer. Apart from that, you can add multiple rewards such as exclusive access to posts or video content.
Once you've decided on the benefits, it's time to set up your subscription fees. Note that you can't change the price once your group subscription has been launched, so consider this decision carefully.
When you're ready, submit your details for review. Facebook will send you a notification once your group subscription has been approved, which might take a few days. Then, click on Activate Subscriptions so that your fans can start joining.
Conclusion
Running a large Facebook group involves a lot of work. Up until recently, making money from that effort wasn't all that straightforward. However, Facebook group subscriptions aim to change that.
There are a lot of reasons why it makes sense for Facebook to support paid groups. With this feature, you'll be able to set up professional networking communities, share exclusive content, and more.
Are you going to give Facebook group subscriptions a shot now that they're publicly available? Need help setting up your Facebook group? Contact Nalu Web Design for help!